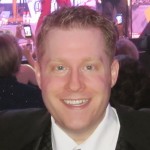 Chris Zavadowski, a native of Northern Virginia, is currently Gabriel Barre's assistant director and resident director for an updated production of Broadway's Amazing Grace, running through August 2019 in Washington, DC.
Chris was recently music director and marketing director for new, sold-out productions of Hello, Dolly! (winner of 3 BroadwayWorld DC-area awards, including Best Production), Peter Pan, and Into the Woods (the latter two both given DC Metro Theater Arts "Best Musical" Honors, with Woods getting a "Best Music Direction" distinction). Before that, he music & vocal directed wildly successful sold-out productions of Les Misérables, Beauty and the Beast, Man of La Mancha, The Wizard of Oz, Annie, and Honk!.  He was also recently selected as Rob Ruggiero's directing observer for Goodspeed's new version of the Broadway musical, RAGS. 
In New York, he worked with producers of the Off-Broadway musical, The ARK – both as an investor, and as Internet marketing director to develop an innovative marketing system to tap into a new audience base.  Along those lines, he was a guest lecturer at The Catholic University of America on the business of the arts and the future of arts & the Internet.
Before that, he worked with Eric Schaeffer (artistic director of the Sondheim Celebration) on the Kennedy Center's production of Sunday in the Park with George. Serving as an assistant to the director, he began a relationship that continued at Mr. Schaeffer's Tony Award-winning Signature Theatre in the following season, where Chris served as assistant director on the highly-anticipated new production of 110 in the Shade (winner of two Helen Hayes awards and five nominations, including Outstanding Resident Musical – the same new version that appeared on Broadway starring Audra McDonald). By a twist of fate, Chris was also cast in the production and performed alongside Matt Bogart, Jacqueline Piro and others to close out the musical.
Chris has opened Virginia Tech's main stage theatre season as director of the musical Cole. Offered a guest artist position before graduation, Chris holds the distinction of being the first Virginia Tech graduate invited back as a director. Opening shortly after 9/11, this timely production celebrated New York, America and true patriotism, and received rave reviews.
Prior to his work on Cole, he directed and musical directed the Virginia premier of the Off-Broadway musical Little By Little. Playing to sold out, enthusiastic houses, this show brought a rebirth of musical theater workshop productions to Virginia Tech. Believing no theater — musical or otherwise — consists of "fluff", he also directed a chilling production of That Midnight Rodeo in southwest Virginia.
Experienced as a musical director, he ran all musical aspects of Mill Mountain Theatre's Summer Drama Day Camp in Roanoke, Virginia for 3 years. At the same time, he created a new revue, Golden Years of Broadway, then produced and performed two versions of the show throughout his home state. A year earlier, with the help of a fellow Virginia Tech graduate, he created a revue of lesser-known Broadway tunes. Called Applause, Applause!, Chris served as the revue's producer, musical director, and as a performer for the production.
A Phi Beta Kappa graduate of Virginia Tech, he holds Summa Cum Laude degrees in both Music Performance and Theater – the first student to ever successfully complete such a demanding curriculum at the university. He has also trained in New York City at the Manhattan School of Music, Broadway Dance Center, the CAP21 musical theater conservatory, and also at the renowned Goodspeed Musicals' Musical Direction Intensive under Michael O'Flaherty. Plus, he was awarded Virginia Tech's prestigious Helen Hayes award for "outstanding contribution to theater".
No stranger to the stage, his professional stage credits include: 110 in the Shade (Swing), Fiddler on the Roof (Constable), Singin' in the Rain (Roscoe), South Pacific (Brackett), 1940's Radio Hour (Wally) and Hello, Dolly!. Other performance credits include A Little Night Music (Henrik), A Funny Thing Happened on the Way to the Forum (Hero), Sound of Music (Captain), Jesus Christ Superstar (Peter), Guys and Dolls (Angie), Dido and Aeneas, his solo recitals From the Heart & Baroque to Broadway and the Kennedy Center. He also served as a soloist for The Metropolitan Chorus.
With the help of CultureFinder, Inc., Chris Zavadowski created the first online area in the world for students in the arts. The forum, called Extreme Culture, was originally launched on America Online in December, 1996. Chris was Editor-in-Chief of Extreme Culture through 2000.
Based in the Washington, D.C. area, Chris is also the president of his own marketing and publishing company, Lifetime Marketing Success, Inc.. He has spent the majority of the last few years blending art with the Internet to create, among other things, new Internet-based theatre projects.
He was named "coach of the year" in one of his industries and with tens of thousands of customers, subscribers and students, Chris has spoken around the country at the top marketing seminars, in addition to holding his own live events.
WHAT OTHERS ARE SAYING:
"Chris is a member of that rare breed who seems equally endowed with both left and right brain attributes…a multi-faced man. Chris has innate talent and excellent training as a musician and theater artist, as well as in directing, acting, dance, voice and conducting.  His craft is excellent, but more importantly his intellect, imagination and, dare I say, soul are marked by the care, wit and empathy that only great directors possess. His sense of humor is another of his invaluable traits. I have been privileged to work with some of the greatest talents in drama and musical theater history. Chris will hold his own among them. He has the promise to be a producer/director in the tradition of Hal Prince." – Karen Walter Goodwin, Broadway & Film Producer
"…extremely impressed with his attention to detail…I knew I wanted Chris on my team. The cast truly loved working with him. He worked them extremely hard and got more out of of them musically than anyone I've ever worked with. Chris collaborated very well and had wonderful ideas to contribute in terms of the artistic vision of the production." – Rob Tessier, Upper Room Theatre Founder/Producer/Director
"With all wordy Sondheim shows, it is easy to get lost in the music and complex melodies and lose energy in the words, making them hard to make out. Under the musical direction of Chris Zavadowski, [the cast] were crystal clear.…There was not a single moment in the show that I questioned a word or song." – Ashton Schaffer, DC Metro Theater Arts
"I don't know of another student who was so focused and clear about what he wanted to do with his life…maturity, knowledge of musical theatre literature, directorial skills, and production experiences… He is a bright, dedicated, and multi-talented individual." – Don Drapeau, Head of the Department of Theater Arts, Virginia Tech